Polymeric films are used in a variety of medical applications.   These include disposable surgical gowns, mattress covers, fluid bags, transdermal patches and wound-care products. Films can be used in single-layer or multi-layer constructions and can be manufactured from a variety of materials ranging from base polymers like TPU, Pebax, and polyolefins to breathable elastomers, as well as high barrier polyamide polymers, such as MX-Nylon.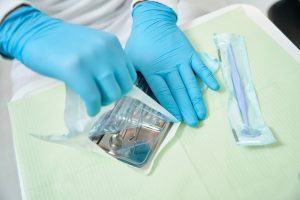 Choices for medical bag construction range from polyethylene (PE), polypropylene (PP) and polyurethane (TPU) to stryrenic block copolymers TPE's. The selection of one material over the other is dependent on cost, application requirements, as well as bag contents.
For more information on this application segment, see Fluid Transport & Dispensing.
Medical Gowns & Moisture-Vapor Transmission Fabrics
Moisture-vapor transmission (MVTR) properties are critical for many applications that require breathability of the fabric, such as surgical gowns and wound care dressings. Pebax® MV 1074 SA 01 MED is a naturally hydrophilic polymer with excellent permeability to moisture vapor while remaining waterproof. Pebax® can be laminated onto synthetic nonwovens, wovens, or any textiles with the help of some functional polyolefins and does not require any adhesives or bonding agents.
Polyurethane (TPU) film also offers a unique set of properties that make it an excellent choice for medical fabric applications including gowns, drapes, gloves, sheets and pads. TPU offers antimicrobial properties, breathability and biocompatibility, all while maintaining elasticity and a soft to-the-touch feel. TPU films are also resistant to skin oils and have excellent tear and abrasion resistance. Greco also has breathable options as well.
Many medical packaging applications require superior barrier properties to protect internal devices, drugs and other agents, or to ensure sealed components do not permeate to the external environment. MX-Nylon (MXD6) offers superior gas barrier properties against oxygen and carbon dioxide.
Excellent heat stability and a wide processing window, allows this unique polyamide to be co-extruded or co-injection molded with other polymers, such as polyethylene terephthalate (PET), polypropylene (PP) or polyethylene (PE) for multi-layer medical packaging or containment systems that require low oxygen permeation. MX-Nylon is also suitable for applications that must withstand sterilization by gamma, e-beam, ethylene oxide and retort methods.