Drug delivery plastic applications range from  commodity products, such as syringes and IVs, to life saving pharmaceuticals and implantable devices. Material selection within this segment is very much dependent on application and performance requirements.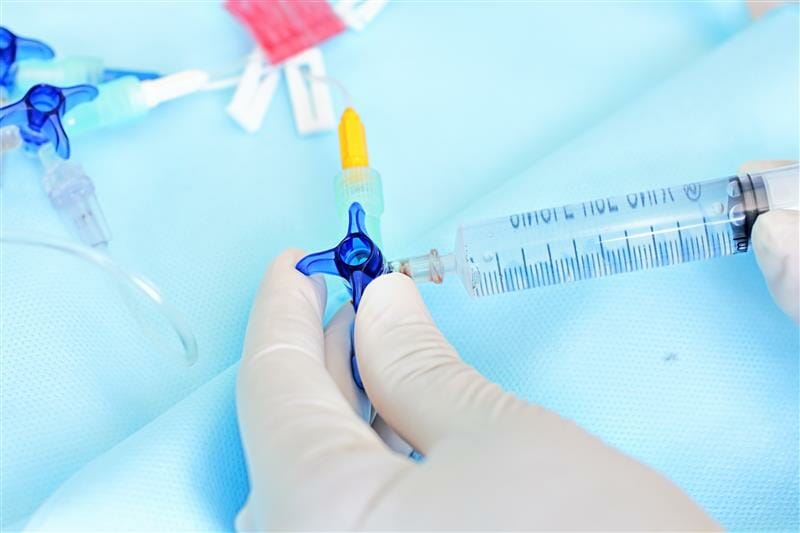 A wide range of medications are administered intravenously and are sent directly into the bloodstream using a needle and or tube. With IV administration, a thin plastic tube (called an IV catheter), is inserted, allowing the healthcare provider to administer multiple doses with a single needle prick. The type of catheter to be used, as well as the materials used in manufacturing will vary based on the IV application, as well as anticipated time of use. 
Standard IV sets can be used up to four days for short-term administration of pain therapy, antibiotics or medication during surgery. With standard IV administration, a catheter is inserted into the wrist, elbow, or hand. These products are most commonly manufactured from polyurethane, PTFE or FEP. 
For longer term pharmaceutical administration, such as chemotherapy or total parenteral nutrition, central venous catheters (CVC) are used in place of standard IV catheters. A CVC is inserted into a vein in the neck, chest, arm, or groin and can stay in place for several weeks or even months. Peripherally inserted central catheters (PICC), tunneled catheters and catheter ports are various types of CVCs. The tubing components within these devices are commonly comprised of soft polyurethane (TPU) and polyamide (PA 11/12) materials.
There are two main types of IV therapy for drug delivery purposes, IV injection (syringe push) and IV infusion. IV infusion is the controlled administration of medication over time using either an infusion pump or a drip line. Infusion pump housings, such as those used in insulin administration are manufactured using polyethylene (PE), and polypropylene (PP).
Syringes are used in IV push therapy and serves as both a carrier and delivery system for a single dose of medication. Syringes are comprised of four main parts: a needle, barrel, plunger and cap. The needle is commonly manufactured from stainless steel, while the barrel is commonly constructed using pharmaceutical grade polypropylene, acrylic (SMMA) or in some cases, glass. The plunger can be manufactured using thermoplastic elastomers, such as SEBS.